...and we've done our last gig of the year, probably. We only have one more rehearsal left, and John's gone swanning off to Antigua for a fortnight, while Sharon, James and I have another tELLEY gig next Saturday, so there's not much chance we'll get much done in December. The pressure's off a bit, though, as it seems we've only been rehearsing for gigs, and thus neglecting our back catalogue of tunes a bit. True, we pulled a couple of oldies out of the hat - Red Nose Day got played again for the first time in three years, The Little Sisters of The Poor got two outings including Berlin - but we've had so many new songs pouring forth that we've not had time to adequately rehearse some of the lesser known songs that we've started and forgotten about or just stopped rehearsing.
At some point in the year, I printed off and laminated a sheet of A4 with every Flyers song we'd tried live or recorded and it totalled nearly 50 songs. For a band with one album and three singles, that's quite a lot of stuff. Some of it has gone forever; though officially I think the only song we've all said we're never playing again is Falling Down, I can't foresee a time when Cat Hits Car, or Rat Attack (which hasn't even been released yet!) make a reappearance. It's hard enough trying to coax Sharon into playing anything she has no enthusiasm for - even Frittata, which appears on our upcoming EP, has been added to potential future sets under duress, so anything we've mothballed for a couple of years has no chance. The fact that the three songs I've mentioned were all my compositions is neither here nor there, I'm sure...! saying that, we did dust off Pretty But Not Beautiful and Suits at the last rehearsal and they both sounded OK, so we might give them a chance sometime. It's easy to forget that out of those 50 songs, only about 15 or so have actually been heard on record, so balancing the new, unheard stuff with the old 'classics' remains an eternal battle.
But it's all about the future, I suppose. And looking back, 2009 was pretty cool for us, so 2010 has much potential. We've managed to get four new songs out this year, play abroad, do more gigs than we've done in a single calendar year, got our music on the telly (if you're not Welsh, you will have missed Blackpool being played - twice!- over the footy highlights a couple of Saturdays ago), shared quite a few rousing car journeys, and generally done all the things that being in a band should be about.
Next year, we've got a new EP, a track on a Jonathan Richman tribute, and most excitingly, plans to put two new full-length studio albums out. One is the official followup to Sex With Strangers that we've been recording over the past two years; at the moment it's probably 60-70% complete, with just a few more songs needing to be recorded. But before that will come our second album. This album has no songs written for it, no titles, no preparation yet, nothing. All that exists is the deadline; the album must be finished by Sunday, February 28th 2010. And we're not doing any work on it bar some loose 'pre-production' (i.e. talking about it) until February 1st.
Does it sound daft? Certainly. Is it possible? Yes. For the past three years, John's made a solo album each February as part of the RPM Challenge; an international event where participants must craft a full-length LP (10 songs or 25 minutes) in 28 days. Last year, James and Martin made one each as well. This year, we're going for a Flyers one. With any luck, we'll finish it, then put it up on iTunes or something, but also press up a few physical CDs to sell at gigs. Whatever; it'll be an official Flyers LP. We've resolved so far a couple of limiting factors:
i) Collaboration. So far, every song we've made has been the result of one person completing it from start to finish and showing it to everyone else in rehearsal. That's why the songs are all credited to individuals. This time, we're bringing in half-finished bits for everyone to add to.
ii) Drums. James wants to play more guitar and less drums for this. We're resolving to find additional means of percussion, be they human or programmed. I have a feeling this will have a big effect on our working methods. If it makes us sound more like Saint Etienne, that's great.
We haven't got much further with it than that, but after our last rehearsal, we have our annual meeting/ slap-up feed. I'm sure it'll be discussed there.
In the meantime, I'll try and keep blogging if anything comes up. All that's left to say is that 'Misteltoe Misadventure' is appearing on
A Very Cherry Christmas Vol. 5
. James wrote and sang it, and it's got a brass band on it. Enjoy!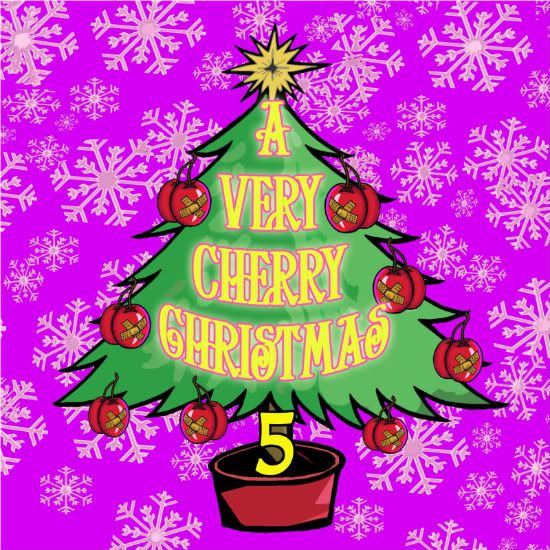 Thom